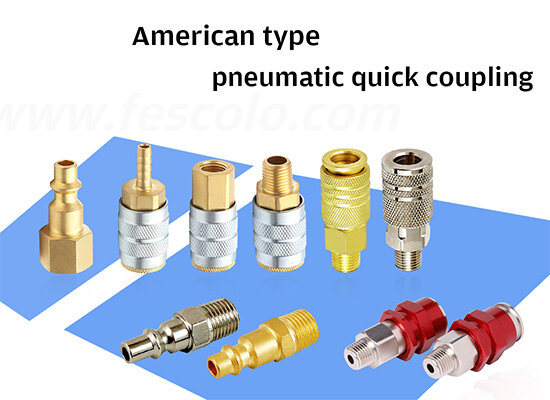 American Type Quick Coupling
In daily life, American pneumatic quick coupling is the most common and widely used type of pneumatic quick coupling. There are varies of types and functions, mainly including TR Tru-Flate series, IN Industrial series, IK, IH, IM and other manual-operated series, and UA, UB, UC and other push-to-connect series, as well as the extended LC Lincoln series.

Most of these series quick couplings can be interchanged with the related series of Parker and Rectus. The nipples or plugs of common American quick couplings mainly include 8 types: IN20, IN30, IN40, TR20, TR30, TR40, AR20, and LC20 series.
American pneumatic quick couplings are usually made of carbon steel, brass and stainless steel. Carbon steel materials can bear higher working pressures, and brass and stainless steel materials can be used in water, oil mist and corrosive environments.
If considering both working pressure and medium environment, mixed materials can also be used, such as brass body, carbon steel with zinc plated sleeve, stainless steel material and locking balls.
According to the flow rate and the size of the orifice, pneumatic quick couplings are divided into three types: 1/4", 3/8", 1/2", which can meet the different flow requirements of users, but some series currently have only 1/4" body size. The required flow rate, working pressure, and working conditions and media should be carefully distinguished before purchasing. Basically, all of American quick couplings are with NPT thread. If other threads are required, please remind us in the order.
It is recommended that the working pressure does not exceed 2.0MPa. If you need to use a higher working pressure, you can choose carbon steel or stainless steel, or mixed materials. Such as brass body, carbon steel with zinc plated sleeve and nipples or plugs. The commonly used sealing material is NBR, in addition, FKM fluorine rubber, EPDM and other sealing materials are available.
Generally application include air compressors, pneumatic tools, cleaning machines, lawn mowers, spraying and other industries etc.
For more information, please feel free to Contact with us.