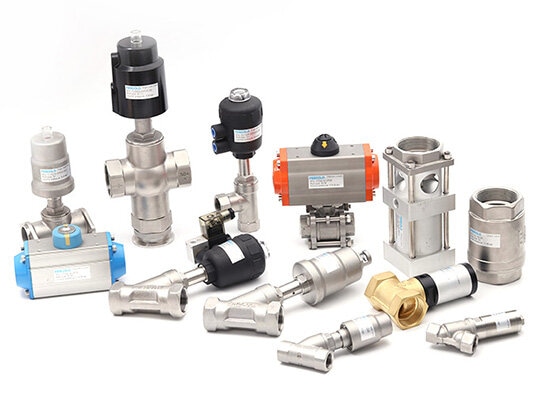 Pneumatic Control Valve
Pneumatic control valve refers to various pneumatic components that control the pressure, flow and flow direction of air flow in the pneumatic system and ensure the normal operation of pneumatic actuators or mechanisms. The element that controls and regulates the pressure of compressed air is called a pressure control valve.

The element that controls and regulates the flow of compressed air is called a flow control valve. An element that changes and controls the direction of airflow is called a directional control valve.
Common pneumatic control valves mainly include angle seat valve, pneumatic drain valve, pneumatic filling valve, pneumatic globe valve, pneumatic actuator, pneumatic actuator ball valve, pneumatic three-way ball valve, quick exhaust valve, pneumatic diaphragm valve, etc.
Our pneumatic control valves have characteristics of compact structure, light weight, easy installation, high operating frequency, long service life and stable working performance.
For more information, please feel free to Contact with us.
◆ TV Series 3 Way Angle Seat Valve
◆ DV Series Pneumatic Drain Valve
◆ DM Series Pneumatic Diaphragm Valve
◆ PV32 Series Filling Angle Seat Valve
◆ EV Series Pneumatic Exhaust Valve
◆ VT Series Pneumatic Actuator
◆ GV Series Pneumatic Globe Valve
◆ MV Series Manual Angle Seat Valve
◆ CV Series Stainless Steel Check Valve