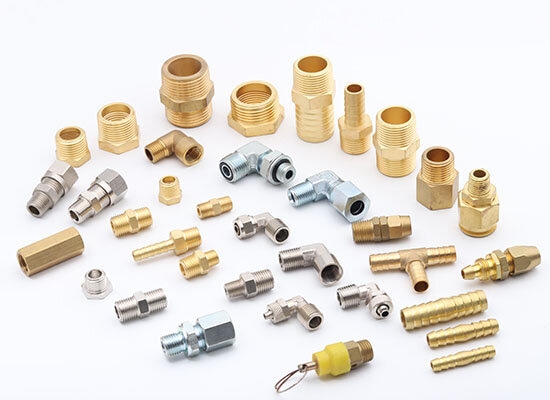 Pipe Fitting
Material: Brass, Carbon steel, Stainless steel, Aluminum alloy, Plastic etc.

Surface treatment: Normally, acid pickling for brass and stainless steel pipe fittings, zinc-plated, copper-plated, nickel-plated, chrome-plated are mainly used for carbon steel materials, and surface oxidation treatment is for aluminum alloy materials.

Characteristics: Pipe fittings made of stainless steel and carbon steel can usually bear higher working pressure, and they are preferred for high-pressure conditions where the maximum pressure exceeds 5.0MPa. In the case of medium and low pressure, brass or aluminum alloy materials are generally used, and plastic joints can only be used in low pressure.
Stainless steel: High temperature and high pressure resistance, the Max. pressure is 20MPa, corrosion resistance, acid and alkali resistance, stable performance.
Brass: High temperature, medium and high pressure resistance, the Max.pressure is 10MPa, the actual pressure resistance is related to the thickness of fittings, corrosion resistance.
Carbon steel: same as stainless steel, high temperature and high pressure resistance, up to 20MPa, but low cost. Since steel fitting is easy to rust, usually requires zinc-plated or nickel-plated as surface treatment.
Aluminum alloy: It is used in few occasions, usually used in conditions with requirement of light weight.
Dimensional tolerance: For undefined tolerance, the default is ±0.1mm, and the minimum tolerance up to 0.01mm.
Accept customization: For all kinds of pipe fittings or connectors, we support OEM or ODM.
Types of fittings: Universal pipe fittings, ferrule compression fittings, nut rapid fittings, D.O.T fittings etc.
Application of pipe fittings: Used for the connection of pneumatic and liquid piping system.
For more information, please feel free to Contact with us.
◆ Brass Fittings And Connectors
◆ Brass Fittings With Nickel Plated
◆ Brass Rapid Fitting With Nickel Plated
◆ Brass Ferrule Compression Fitting
◆ Check Valve (Non-Return Valve)
◆ Copper Pipe Fitting For Cooling
◆ Others