Characteristics:
◆ High pressure regulation precision,
◆ Compared with others, the flow rate of the SMC series air source treatment units is much larger than other series
◆ Good surface treatment technology, beautiful appearance
◆ Stable quality, durable pressure resistance
◆ According to the color, two kinds of white and aluminum alloy color are available.
Parameters
Applicable medium
Compressed Air
Working pressure range
0.05~0.85 MPa
Proof pressure
1.5MPa
Temperature range
0°C~60'C
Grade of filtration
40μm(in default),25μm 5μm
Recommended oil use
ISO VG32 or the same grade oil
Ccontainer Material
Polycarbonate
Protective cover
Not available
Available
Drain Function
Differential drain
Diferential drain or Automatic drain
Catagories
SMC series air source treatments components include FR.L two combination, F.R.L. three combination, Air Filter, Filter Regulator, air regulator, Air Lubricator, and Auto Drainer etc.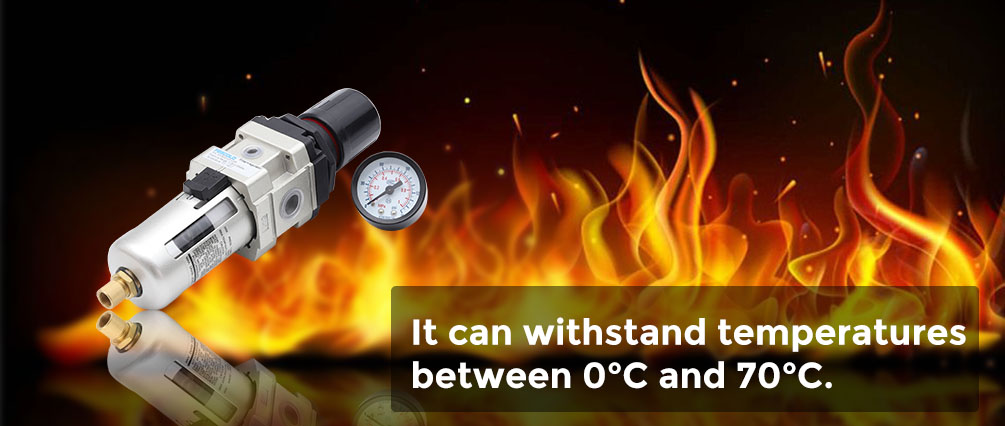 Application
SMC series air source components, like FESTO and AIRTAC series, are used as pretreatment units in pneumatic systems, and are widely used in metallurgy, electromechanical, construction, transportation equipment, home appliances, light industry, machine tools, medical treatment, packaging Automated production in industries such as industry.
Usually, the compressed air discharged by the air compressor contains a certain amount of water, oil and dust. The temperature of the compressed air is as high as 140-170°C, and some of the water and oil have become gaseous.
Therefore, it is necessary to use air source treatment units to purify the compressed air, and use compressed air to operate mechanical equipment.
In addition, pneumatic components such as solenoid valves, pneumatic actuators, and air cylinders are often in high-frequency operation, and the friction between the valve and the inner wall of the cylinder increases.
Therefore, it is necessary to use an Air Lubricator to atomize the specified lubricating oil into a gaseous oil mist. Internal friction, thus prolonging its service life.
For more information, please feel free to Contact us.