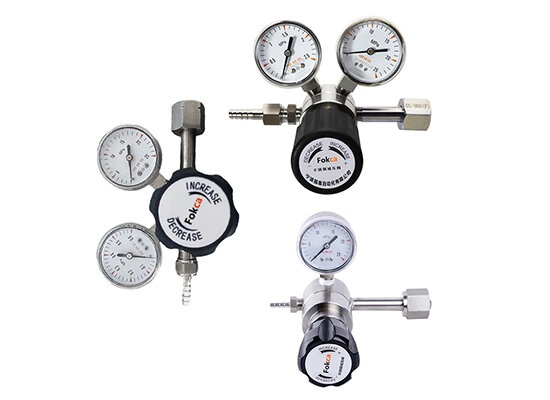 Gas Pressure Regulator
High pressure gas regulator is a special device that automatically reduces the working pressure of the gas cylinder outlet. The function of adjusting the opening of the opening and closing parts to keep the pressure behind the regulator within a certain range.

Usually the pressure in the gas cylinder is as high as 10~20MPa, and the regular working pressure used by our daily equipments is generally less than 1MPa, so the high pressure regulator of gas cylinder is very necessary.
According to the material of valve body, high pressure gas regulator can be divided into brass chrome-plated pressure regulator, stainless steel pressure regulator and carbon steel pressure regulator. According to the gas medium, it can be divided into oxygen regulator, nitrogen regulator, hydrogen regulator, helium regulator, carbon dioxide regulator, argon regulator, acetylene regulator etc.
According to the number of stages, it can be divided into one-stage pressure regulator, two-stage pressure regulator, and multi-stage pressure regulator. According to the structure, it can be divided into thin diaphram type, spring diaphram type, piston type, lever type and bellows type.
Application industries of gas cylinder pressure regulator includes medical, cutting, welding, aquarium, refrigeration, and food industries, etc.
For more information, please feel free to Contact with us.