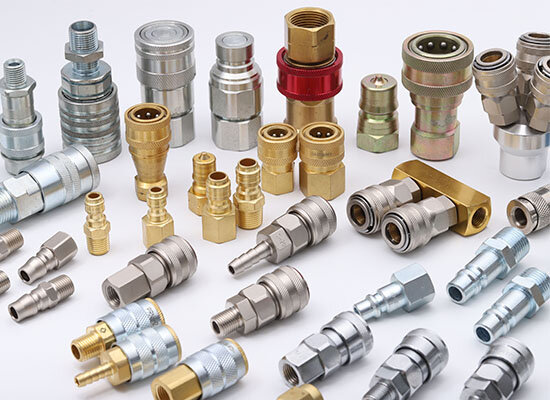 Hydraulic quick coupling
Hydraulic quick coupling, are mostly push and pull types, which is a device used to provide a fast, make-or-break connection of fluid transfer lines, particularly for high pressure condition.

Operated by hand, hydraulic quick coupling replace threaded or flanged connections, which require wrenches. When equipped with self-sealing valves, hydraulic quick coupling will, upon disconnection, automatically contain any fluid in the line.

Composed of male and female parts, hydraulic quick couplings are usually divided into two types: double Shut-Off type and straight-thru type. Double shut-off type has no loss when the joint is disconnected, and the most advantage of straight-thru type is to maximize the flow orifice . According to different usage conditions, you can also choose different materials, such as carbon steel, stainless steel, brass etc.
Hydraulic quick coupling has the characteristics of high pressure resistance, stable work, convenient operation and high safety. Our product series include ISO7241, ISO5675, ISO16028 and other standard series, and have good interchangeability with the couplings of famous brand,like PARKER, FOSTER, HANSEN, AEROQUIP, NITTO and other major brands. In addition, there are ultra-high pressure series, as well as some special industry-use series.
The applications of hydraulic quick couplings can be found in any kind of distribution system, such as water, steam, vacuum, air, oil etc. When such systems require frequent connection and disconnection, the use of such a connector is essential for any fluid or system that flows through a line.
Before selecting a hydraulic quick couplings, you need to check the functional requirements of the coupling, the maximum working pressure of the application, the media temperature and ambient temperature, and if the seals and body material are compatible with the system's fluid.
For more information, please feel free to Contact with us.
◆ A commonly used Chinese Series