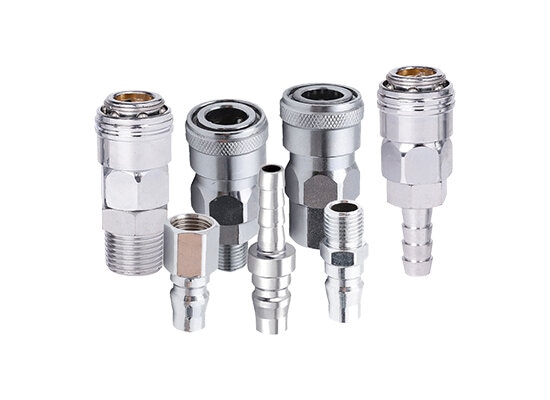 Japanese Type Quick Coupling
Both NT and NM Japanese type quick couplings can be interchanged with NITTO 20, 30, 40 series, Parker-Rectus 13, CEJN315 series, and compatible with all NITTO 20 series nipples or plugs. The body of coupler, sleeve and nipples are usually made of carbon steel with chrome-plated, and the internal element is made of brass.

It is equipped with 6 stainless steel locking steel balls. The couplers are mainly divided into four types: female thread, male thread, hose barb tail and nut lock type. The internal double sealing structure ensures the air tightness of the product and no any leakage.
The NT series quick coupler adopts a push-to-connect structure, which can be operated with one hand. It has a large flow rate, safety and reliability, and the operation is very convenient. So far, it is only available 1/4" body size. The NM series Japanese type quick coupling is a manual-operated structure, divided into 1/4", 3/8", 1/2" three kinds of flow rate body sizes. Mostly BSP or BSPT thread are used commonly in the Asian market.
The maximum working pressure of the Japanese type quick coupling is 2.0MPa, which belongs to the medium-pressure type in the pneumatic quick couplings. The commonly used sealing material is NBR, in addition FKM fluorine rubber, EPDM and other sealing materials are available.
Generally applications include air compressors, pneumatic tools, lawn mowers, spraying and other industries etc.
For more information, please feel free to Contact with us.