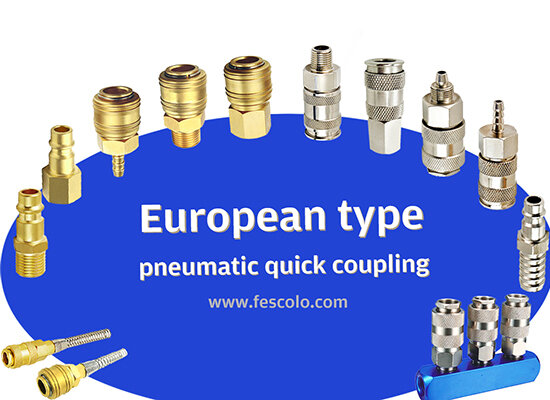 European Type Quick Coupling
In the case of the same body size, the flow rate of European-style pneumatic quick couplings is larger than that of American type quick couplings. Basically, most European type quick coupling can be interchanged with Rectus 25, CEJN320, and Parker RF series.

Mainly includes EU series European standard quick coupling, EE series European economical type quick coupling, GE series German quick coupling, and EM10 series European mini quick coupling. EU20 series are the most European type nipples or plugs. Compared with other 1/4" body size, EU20 plugs have about 1.5 times of the orifice, and the flow rate is much larger than that of other 1/4"body size quick couplings.
Usually the coupler body is made of carbon steel with nickel-plated, or brass with acid pickling, and the sleeve is made of carbon steel with nickel-plated. If high working pressure is not necessary, you can also choose an all-brass quick couplings. All the European series quick couplings adopt the structure of 6 locking stainless steel balls. The products are thick, safe and reliable, with good hand feeling, easy to connect and disconnect.
Push-to-connect structure can realize operation by one hand, and the maximum working pressure is 2.0MPa. At present, there is only 1/4" flow rate body size. If you need a larger flow rate, it is recommended to choose American TR40, IN40 series. All European pneumatic quick couplings basically use BSP or BSPT thread. If need other thread, you can also customize it by order.
EU20 series European-style quick couplings are designed with push-to-connect structure and single shut off, and EE20 and EM10 series European-style quick couplings are manual-operated. GE German-style quick couplings have a two locking bar structure and also have push to connect function. The commonly used sealing material is NBR, in addition, FKM fluorine rubber, EPDM and other sealing materials are available.
Generally applications include air compressors, pneumatic tools, lawn mowers, spraying and other industries etc.
For more information, please feel free to Contact with us.