When needs to disconnect a pneumatic tubing and a push in fitting, just press the button or sleeve on the top of the fitting, and the air tubing can be easily pulled out. It is very convenient to operate.
Generally speaking, the screw part of push in fittings is made of brass with nickel-plated, the body of the fittings is made of PBT, the lock claw is made of stainless steel(Normally SUS316), and the button is made of POM (Polyformaldehyde).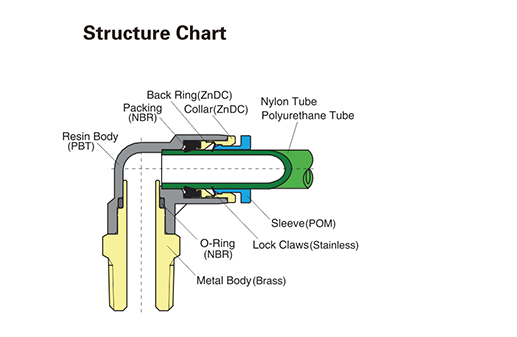 Characteristics of push in fittings

● Easy to operate
● Convenient maintenance
● Not easy to leak
● Small size and light weight
● Available in a variety of styles and colors
● Thread type: PT, BSP, NPT, Metric, etc.
Parameter
● Working pressure: 0~10bar, can also be used for vacuum or water (Not including corrosive environment, for this situation, recommend stainless steel push to connect fittings )
● Working temperature: 0~60℃
● Application medium: Compressed air, gas, water, etc.
● Applicable air hoses: PU tube, nylon tube, PE tube, PVC tube, etc. (it needs to have a certain hardness, too soft or too hard air tubing is easy to fall off, not suitable for pneumatic push in fittings)
Categories
Pneumatic push in fittings include Straight union, Elbow union, Y type Tee branch, T type Tee branch, Cross union, Male straight fitting, Male elbow, Rotatable elbow, Reducer fittings, Multi branch, Plugs and so on. Please refer to the bottom of this page for details.
Application of pneumatic push in fittings
Pneumatic push to connect fittings are mostly used in industrial automation, food machinery, CNC lathes, various types of packaging, printing machinery, etc.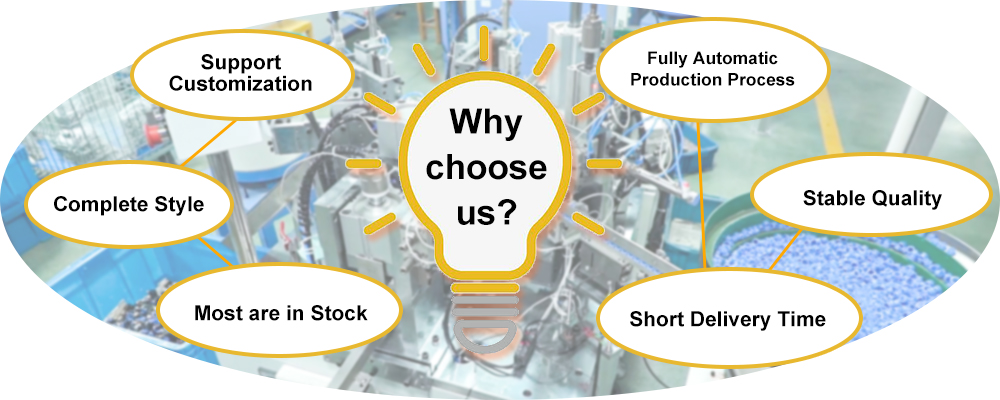 Why choose us
● Fully automatic production process,
● Stable quality,
● Short delivery time
● Most are in stock
● Complete style,
● Support customization
From placing an order to shipment, the production progress will be continually reported according to the whole process. Not only finished products, but also accessory parts, each process will take a corresponding inspection to ensure that the product quality is stable and qualified.
Our technical engineers are experienced and have a solid technical foundation. They often help customers solve difficult and miscellaneous questions, especially in the design and development stages of customized products, and can often provide valuable opinions and suggestions.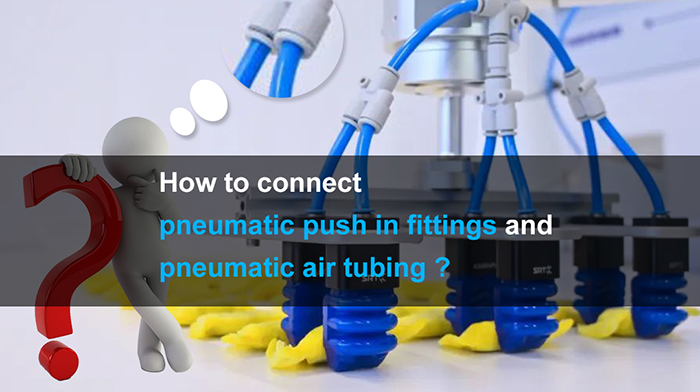 How to connect pneumatic push in fittings and pneumatic air tubing?
The connection of a pneumatic push in fitting to an air tubing or hose is very simple, just insert the tubing into the push in fitting to the end. Then the air tubing is automatically sealed and locked.
Applicable air tubings or hoses for pneumatic push in fittings include PU tubings, Nylon tubings, PE tubings, etc.
It should be noted that a pneumatic push in fitting with such lock claw structure is not suitable for tubes that are too soft, such as silicone tubes, or tubes with too thin walls, nor are they suitable for tubes that are too hard, such as metal copper tubes, stainless steel tubes, etc. Tubes that are too soft or too hard will easily fall out of the push in fittings.
Where bending is required, use an elbow fitting instead of a straight fitting as much as possible to protect the Pneumatic air tubing. Before connecting a pneumatic push in fitting and an air tubing, the end face of the tubing needs to be trimmed flat with a tube cutter.
When replacing a fitting or finding a leakage, please check whether the outer wall of the end of a pneumatic tubing is scratched or aged. If so, the broken part of the tubing should be removed with a tubing cutter and then reinserted into the a pneumatic push in fitting. Use professional pneumatic tube cutters as much as possible to cut the tubings. It is not recommended to use ordinary scissors or utility knives for instead.
For the push in fittings with thread, it is also necessary to select the correct thread before using. Common threads include metric threads, PT threads, BSP threads with O-rings, and American NPT threads. Different types of threads cannot be matched with each other, which is prone to leakage.
Each push in fitting corresponds to a specific size of outer diameter of tubing. Usually there are metric and imperial sizes. It should never be substituted with a similar sized air tube. For example: 1/4" push in air fittings should be matched with 1/4" outer diameter of air tube, and it cannot be matched with a 6mm O.D. tube, otherwise it will cause falling off or potential danger.
For more information, please feel free to Contact with us.