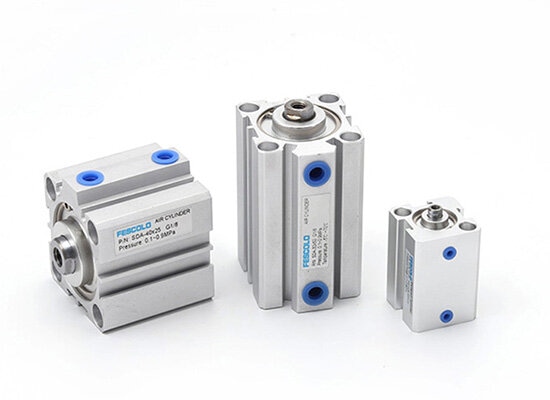 Compact air cylinder
Compact cylinder, ie. Compact pneumatic cylinder has relatively different structure from other pneumatic cylinders. Its front and rear covers are fixed by circlips, and the inlet and outlet are on the cylinder tube itself.

Compared with standard SC, DNC, SI and other cylinders, its structure is more compact, which can effectively save installation space. There is a magnetic switch installation sleeve on compact cylinders' tube, no need additional installation fixed bracketes. It is more convenient to install the reed switches.
The stroke of compact cylinder is generally relatively short, mostly between 70 and 160mm. If the maximum allowable stroke is exceeded, then treated as non-standard cylinder. Common Compact small air cylinders include SDA and CQ2 series, and ADVU series cylinders.
Parameter
◆ Working pressure: 0.1~1.0MPa
◆ Ambient temperature: -20~80℃
◆ Applicable fluid medium: Compressed air, non-corrosive gas
◆ Operating speed: 30-500mm/s
◆ Applicable reed switch types: CS1-J series, etc.