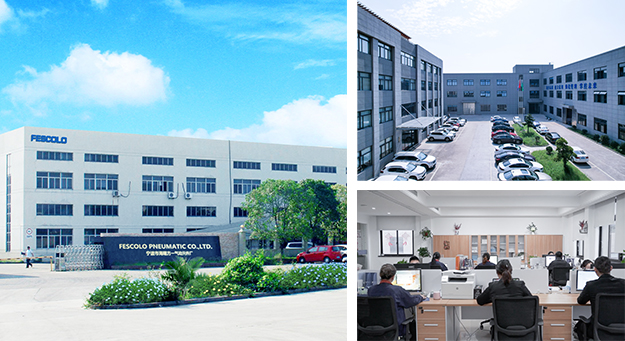 FESCOLO, YOUR TRUSTED PARTNER FOR PNEUMATIC AND AUTOMATION.
Fescolo is a leading manufacturer and exporter specialized in pneumatic and automation products headquartered in Ningbo, China since 2001.
Our product range consists of pneumatic cylinders, angle seat valves, air source treatment components, 2/2ways electromagnetic valves, solenoid valves, stainless steel fittings, push in tube fittings, PU hose, Nylon hose, quick couplings, pipe connectors and adapters etc.
CUSTOM OPTIONS
We accept OEM, ODM. If you have unique requirements, we can customize the products to accommodate your product and packing with your logo and labels. Our experienced staff can assist to solve the problems you meet.
OUR CORE COMPETECY
1. We are the only supplier in China who can promise you to full refund in case of bad quality.
2. We are the only supplier in China who can sign Quality Assurance Agreement, Delivery Assurance Agreement, Confidentiality Agreement, etc.
3. We have our experienced technology team work who always provide you optimal solutions and advices.
4. Accept small order and quick shipping.
5. Reliable package and shipment.
SALES AND SERVICE SUPPORT
Our team of experience sales, service and technical support staffs provide application and technical consultancy, pre-sales and after sales service and technical support to ensure total customer satisfaction. All our products includes a one-year or 6-month warranty. Most replacement parts are stocked and they can be shipped within 3days of your order being placed.
Warmly welcome you and opening up the boundaries of communication. We are looking forward to forming successful relationships with you in the near future.