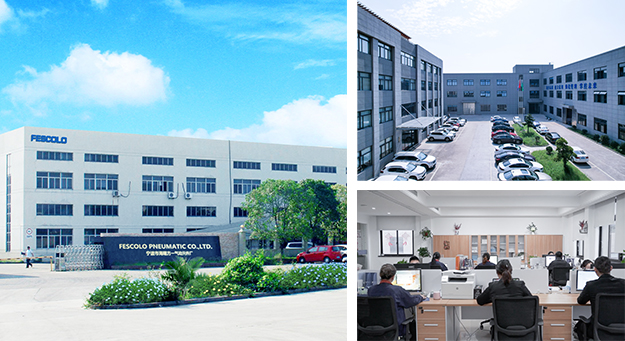 Fescolo pneumatic Co., Ltd. , found in 2001, which specializes in pneumatic products for automation industry.

We have an excellent technical research department, first-class production technology and equipments. All our workshops are in accordance with 6S principles. At present, we have 18 production lines, more than 2,000 production equipments, annual turnover of more than 20 million US dollars.
Until now, our customers are more than 50 countries around the world. Our major products include air cylinders, solenoid valves, pneumatic control valves, filter regulators, air hoses and fittings. The applications involve industrial automation, medical treatment, sanitary ware, automobile manufacturing, wire and cable, horticulture and agricultural irrigation etc. Furthermore, we accept ODM and OEM customization services, and can design packages and labels for our customers.
Our chief technical engineer, Antonio Bonifazi from Italy, had worked as a technical engineer in Aigiro Group and NSG Group for many years. He has fruitful experience and unique technology in mechanical automation industry. Each product from Fescolo will go through 3 inspections at least before shipping, in order to guarantee every product you receive is perfect. The raw materials we use are the best and latest. Basically, all our molds are developed and designed by ourselves, which ensures the stability of product quality. At present, 70% workshops realize automatic production, which greatly increases the production capacity. Compared with last year, the annual production capacity has increased by more than 50%. In addition, there are a large number of workblanks and semi-finished products available in stock. From order confirmation to delivery, usually it takes only 3~10 working days. We have stable freight forwarders by sea, air and train, so that we can deliver the goods to our customers with the best price and service.
Most of our products includes a one-year or 6-month warranty. Many replacement parts are available in stocked they can be shipped within 3 days. Our technical sales team experienced and reliable can provide best services from pre-sales to after-sale, as well as technical support and consultancy. We are on a mission to create a green and healthy production environment for our employees, to provide our customers with professional and efficient services, energy-saving and stable quality products.
Warmly welcome and opening up the boundaries of our communication. Sincerely, we are looking forward to your cooperation in the near future. FESCOLO, your trusted partner forever.